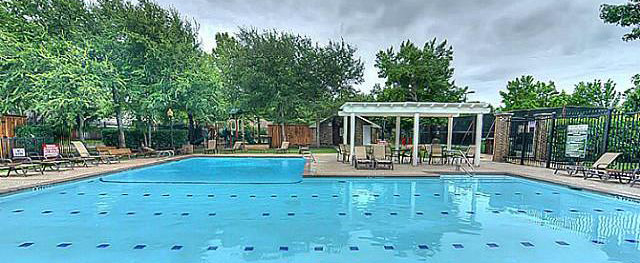 POOL KEYS
Pool keys are changed out annually for your security.  Each household is allotted one key.  Please do not lend out your key.  Also, DO NOT open the pool gates for anyone without a key.  By opening the gate to strangers, you personally take on responsibility for whatever may happen.
If you require a key, please contact us.  There is a charge for lost keys.
The pool, tennis courts, and cabana are monitored 24 hours with security cameras for your protection.
POOL RULES
NO LIFEGUARD ON DUTY – SWIM AT YOUR OWN RISK! – NO DIVING
PRIVATE POOL FOR USE BY BILTMORE RESIDENTS ONLY.
EACH BILTMORE RESIDENT MAY BRING ONE (1) GUEST WHEN THEY USE THE POOL OR TENNIS FACILITIES.
PLEASE BE SURE THE GATE IS CLOSED AFTER ENTERING & LEAVING POOL & TENNIS AREAS.
RESIDENT MUST ACCOMPANY GUESTS AT ALL TIMES.
CHILDREN 14 YRS. & UNDER MUST BE ACCOMPANIED BY AN ADULT (18 YRS OR OLDER.)
REASONABLE POOL HOURS ARE CONSIDERED TO BE 8:00 A.M. until 10:00 P.M.
FOR SAFETY, NO ONE SHOULD SWIM ALONE!
NO DIAPERS IN POOLS. NON-POTTY TRAINED CHILDREN MUST WEAR PLASTIC WATERTIGHT PANTS WHEN USING THE POOL.
NO PETS ALLOWED IN POOL AREA (CITY OF PLANO IMPOSES FINES UP TO $2,000.00.)
NO GLASS CONTAINERS PERMITTED INSIDE FENCED POOL AREA.
NO ROLLERBLADES, SKATEBOARDS OR BICYCLES, ETC. INSIDE FENCED POOL OR TENNIS AREA.
TRASH AND CIGARETTE BUTTS MUST BE DISPOSED OF IN APPROPRIATE RECEPTACLES.
RUNNING, PUSHING OR OTHER BOISTEROUS ACTIVITY IS PROHIBITED.
RADIOS, ETC. ARE TO BE MAINTAINED AT A MODERATE VOLUME.
PARENTS/GUARDIANS ARE RESPONSIBLE FOR CONDUCT OF FAMILY MEMBERS AND GUESTS AT THE POOL AREA.
IMPROPER CONDUCT OR VIOLATION OF RULES SHOULD BE REPORTED TO THE ASSOCIATION MANAGER AT 972.202-0001 BETWEEN THE HOURS OF 8:30 A.M.-5:00 P.M.
PLEASE REMOVE ALL TRASH AND PERSONAL ITEMS WHEN LEAVING POOL AREA.
VIOLATIONS OF THESE RULES WILL RESULT IN SUSPENSION OF POOL & TENNIS PRIVILEGES.
IN THE EVENT OF AN EMERGENCY CALL 911.